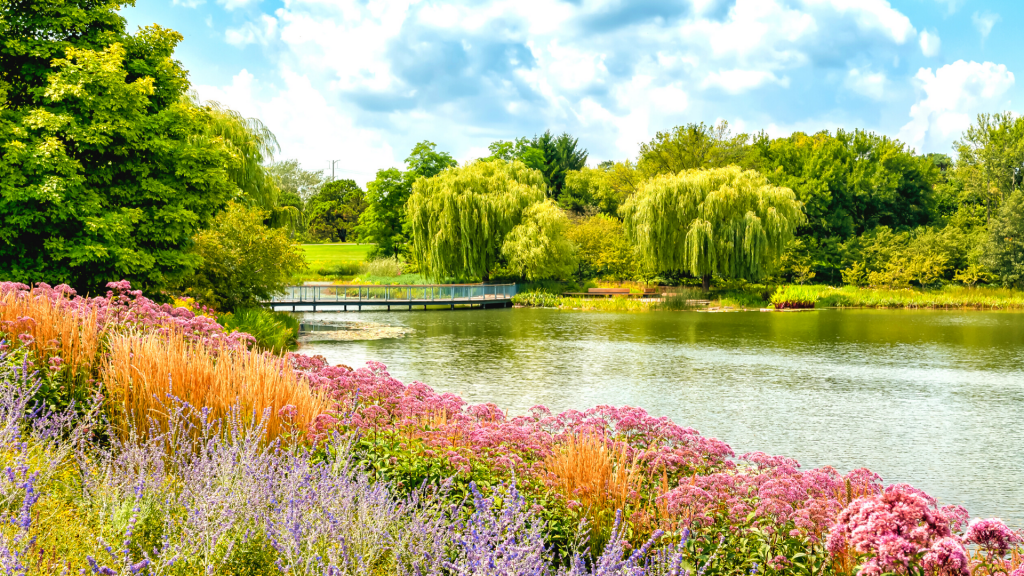 Glencoe is a town in Cook County in Illinois, which is on the North Shore of Chicago. It is in the New Trier High School District. It has been ranked as the eighth richest town in the U.S.A.
The Ambiance of the Neighborhood:
The village of Glencoe has beautiful houses outlined by green trees and colorful flower gardens. The village's major tourist points are parks, the public library, clubs, churches, and Beaches. The magnificent Chicago Botanic Garden is in this village. Also, the other parts of the village are Friends Park, Phil Thomas Park, Kalk Park. The popular beaches include Glencoe beach and Glencoe Sailing beach. Also, there is a theatre in the village known as Writers Theatre. 
Bars and Restaurants: 
A few restaurants of Glencoe are listed below.
Guildhall: $$$: With outdoor seating, this restaurant is great for enjoying food in the lovely weather. This American restaurant serves burgers, fried food, and much more. They also have many healthy options on their menu and unforgettable desserts. Their beverages include cocktails, beer, wine, coffee, and other interesting options.
Morton's The Steakhouse: $$$$: This restaurant is built in a club-style and serves beef and seafood. They serve their steaks with chops, and they also have chefs who make unique dishes. They also have a list of signature dishes, including Braised Beef Rib Chop, Chicken Bianco, and Miso Marinated Sea bass. Moreover, they have beer, wine, cocktails, and happy hour drinks. The restaurant is open for dining in, take away and deliveries.
Abigail's American Bistro: The restaurant is currently only allowing takeaway, but you can find a variety of American food on its menu. They serve food on small plates decorated with toppings. Their highlights include their coffee and dessert. You can reserve a table online in the restaurant when it allows dining in again.
Transit Options:
There are many different ways for one to commute in Glencoe. These various ways are below.
Train: There are multiple Metra stations in Glencoe and trains operate, so it is not difficult to travel on a train
Bus: pace provides local bus services in the town, and it is affordable for everyone.
Car: Of course, if you own a car, it is effortless to travel via road.
Schools:
There are many excellent schools in Glencoe, such as Glencoe Central School, West School, and South School.
What People Love About the Neighborhood:
Due to the landmarks that hold great historical significance in the village, many tourists are attracted. The income is very high of the village which makes it one of the wealthiest towns of Illinois,
What People Dislike About the Neighborhood:
Many residents complain about the neighborhood being unfriendly and uncoordinated. Also, there is no nightlife in Glencoe, which is a con of living in this town.